Conceptual Spa Design for AQUA Spa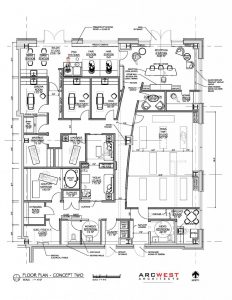 ArcWest – Denver Architects is excited to share the initial conceptual images and spa design for the proposed plan of the new location for AQUA Spa and Wellness Center in (Aurora) Southlands.   The owners of AQUA Spa are looking to create a quiet environment that will promote their philosophy as a unique, eco-friendly, cozy and peaceful retreat.  The new location will feature a Yoga Studio in addition to a host of other pampering services including hot stone massage therapy, hydrotherapy, body treatments, reflexology manicures, and pedicures.
The proposed design (preliminary rendering above) is a tenant improvement for a leased space along South Main Street in Southlands Town Center. The heart and zen of the spa design will center upon the AQUA lounge (artist rendering top) In contrast to water elements throughout, the lounge space will incorporate a beautiful central fireplace to relax next to.  The lounge is a key feature of the spa experience where you can relax either before, after or between your selected treatment.  The location will also feature all organic products within the retail merchandise, and offer consultation for health and life wellness.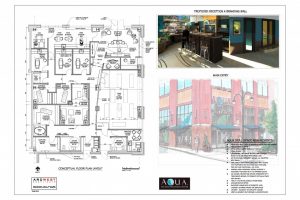 ArcWest Architects looks forward to sharing future developments of the Aqua Spa Design.  If you are considering the tenant improvement for a leased space, contact us for a complimentary consultation.