Construction is well underway for ArcWest – Denver Architects most recent restaurant design for The Plimoth  with the grand opening scheduled for Autumn 2013.  Stay tuned for the exact date.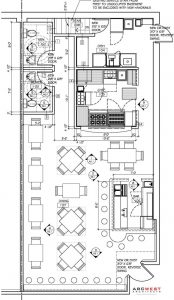 In late 2012 early development or feasibility documents were created to establish the potential for this new commercial restaurant.  After a short period required putting the logistics in place, ArcWest was authorized to proceed with final development of the design and documents to make the restaurant a reality.
The final design creates an intimate dining experience for the developing "North City Park" area of Denver, and includes a flexible dining area including bar seating for 10+ and intimate dinning seating for 32 and 40.  Outdoor seating is anticipated in the near future to double the overall seating to around 80.
This restaurant is planned to be a valuable amenity to the neighborhood as well as the overall landscape of dining in Denver.   Executive Chef and Owner, Peter Ryan, developed this new restaurant and will also be preparing its unique and ever changing menu of cuisine, founded in French and Italian cuisine with a modern twist.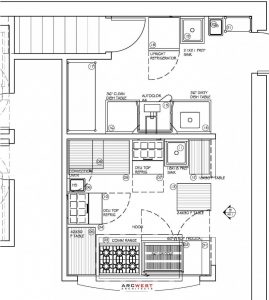 The restaurant design is simple in its layout and form to effectively use the available interior space to benefit the two main functions, Food Preparation and Dining Enjoyment.  The commercial kitchen is a concise, efficient assembly of cooking equipment open to the dining area which allows the culinary preparation to be front and center and part the overall dining experience.
P.S.  This Summer ArcWest also worked on the restaurant designs for two new Brew Pubs | Tap Rooms:
Check out the Former Future Brewery and the Black Sky Tap Room opening soon.