ArcWest Architects wants to share a blog posted by the Highland Denver website earlier this week.  The main discussion point of the article is to explore the question: "Is a contemporary home really the most suitable style for a neighborhood that's charm lies in the classic older Denver bungalows, Victorian and Denver square homes?"  The project highlighted in the article looks at a proposed "new house old style" project design that resonates with, and strives to respect, the vernacular of the surrounding homes.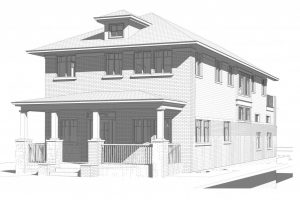 The "Highland Denver – Life on the High Side" is a great website for anyone who lives in the neighborhood, or who is interested in keeping up with the latest development news, things to do and places to eat.
The Highland Denver blog was created in 2012 as a way for Aly Weaver and Mason Goetz, a pair of new homeowners, to share what their life in the Highland neighborhood was all about. Since then, it's evolved to become the go-to source for all things Highlands- from new development projects to the best places to eat in the 'hood. Learn more about Aly and Mason and what they do here.