North Denver Bungalow to be Renovated for Office Space | Commercial Adaptive Reuse
ArcWest Architects (Denver) is currently working on the commercial adaptive reuse (renovation) of a a classic Denver Bungalow home into a new Real Estate Office location.  The older home was previously converted, and subdivided into a multi-unit rental apartment.  Our redevelopment approach will include a complete demolition of the interior to open up the space for a new open office layout.  The exterior of the classic home will be preserved to maintain its residential character while updating access and amenities.  Improvements to the property will include a backyard outdoor space and landscaping.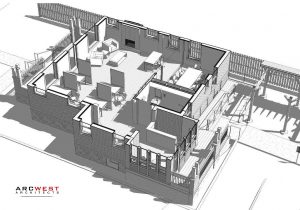 Commercial adaptive reuse is the "greenest" of development approaches in which older building in or near the city core are re-purposed for a new function and use.  For your reference, we found a very good definition commercial adaptive reuse on a colleague's website we'd like to share.